Demerit Point Scheme (DPS) is introduced to align Port Safety with Jurong Port's Environmental, Health and Safety (EHS) mission and vision.
Mission
Jurong Port is a multi-purpose port operator that provide facilities and services to the shipping and logistics industry. Jurong Port aims to provide an Environmentally-Friendly, Healthy and Safe (EHS) Workplace.
Vision
We are committed to provide all stakeholders with an incident-free, Environmentally-Friendly, Healthy and Safe (EHS) workplace, including staff, contractors, tenants, lessees, visitors and port community operating within Jurong Port.
Policy Objectives:
Jurong Port management is committed to achieving Environmentally-Friendly, Healthy and Safe (EHS) excellence and an incident-free workplace through:
Compliance with all applicable legislation and other requirements
Competency building through comprehensive training and robust work processes
Cultural promotion through Environmentally-Friendly, Healthy and Safe (EHS) programs and initiatives to continually improve Environmentally-Friendly, Healthy and Safe (EHS) performance
Communication at all levels to enhance effectiveness of Compliance, Competency Building and Cultural promotion
---
Demerit Point Scheme (DPS) is part of an on-going effort by Jurong Port to define its role as an occupier and to ensure its compliance with the Workplace, Safety and Health Act 2006 ("WSH Act"). Demerit Point Scheme (DPS), together with several other safety implementations such as training/dialogues/courses, issuance of permits-to-work and safety management system, aims to provide a safe and healthy working environment for all port users.
Under Demerit Point Scheme (DPS), the Port will impose sanctions (demerit points and fines) on non-compliant port users – individuals and/or their employer-companies. Non-complaint port users may face debarment from the port if more than 24 demerit points is accumulated over a 24- month period.
Demerit Point Scheme (DPS) consists of rules which fall under the following categories:
Safety (including health and environment);
Security;
Traffic;
Operation;
Human Resource (HR) (including those requirements for work permit and labour law)
A Notice of Infringement (NOI) is issued for infringement committed in the port.
For any infringement committed, the offender will be penalised according to the classification of offence as per the table shown below.

Upon receipt of Sanction Notice, offender shall either:
Proceed to pay the enforcement charge with the notice at Jurong Port Pass Office within 7 working days from date of Notice
OR
Log an appeal against the infringement within 7 working days from the date of the Notice.
If the offender does not take any actions within 7 working days period, offender's pass will be suspended temporarily until necessary actions has been carried out by the company and or the offender.
To have the suspension lifted, the offender is required to settle the summon (if any) and to go for counselling.
Upon receipt of Sanction Notice, offender who wish to appeal must make an appeal request via JP-Online within 7 working days (from date of Notice).
(1) Go to https://www.jurongportonline.com/JPPASS/
(2) Under Demerit Points System (DPS), select Appeal Request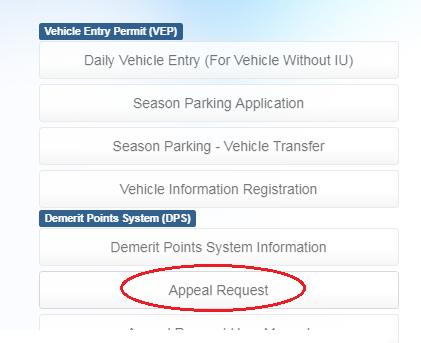 (3) Under Appeal Type, select "Company OR Individual Appeal Request"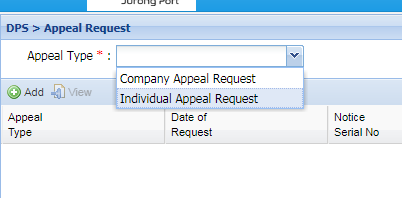 (4) Key in Notice Serial No.
(5) Key in Company Code / Identification No.
(6) Click ADD.
The decision of the Appeal Board is final. Appeal Result Notice will be mailed to the offender notifying the outcome.
Yes, Contractor Permit is compulsory.
Contractors requesting to do maintenance, repairs and other forms of ancillary works on vessel or at open yard/warehouse must apply for a contractor permit from the Workplace Safety and Health (WSH) Department. The Contractor Permit and Risk Assessment are to be submitted to the Safety counter at Pass and Permit office or can be submitted on JP-Online for approval.
A Safety Assessor must be arranged by the company requesting for the service. The Safety Assessor after inspecting the site will provide an Inspection certificate to Jurong Port for the Contractor Permit to be approved. The works are to be carried out only in specified areas in the permit.
A fee of $100.00 (exclusive of 7% GST) will also be levied.
---
(1) Login to JP-Online
(2) Select "Other Services"
(3) Select "GB Misc Application"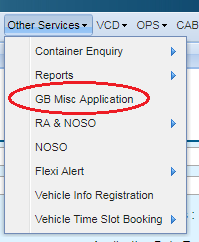 (4) Under the type of application, choose "Contractor Permit"
(5) Key in Date From /To
(6) Click Submit at Application Status
(7) Click Add
(8) Complete the form & Submit.