Credit Account and JP-Online Account are required.
As Jurong Port and the Lighter Terminals operate as different cost centres, 1 to 3 separate credit account (s) is/are required.
For Jurong Port: General Bulk / Container accounts
For Lighter Terminals: Penjuru Lighter Terminal & Marina South Wharves accounts (one account number for both terminals)
(1) Go to https://www.jurongportonline.com/JPPASS/
(2) Look for eForms
(3) Select Download Application Forms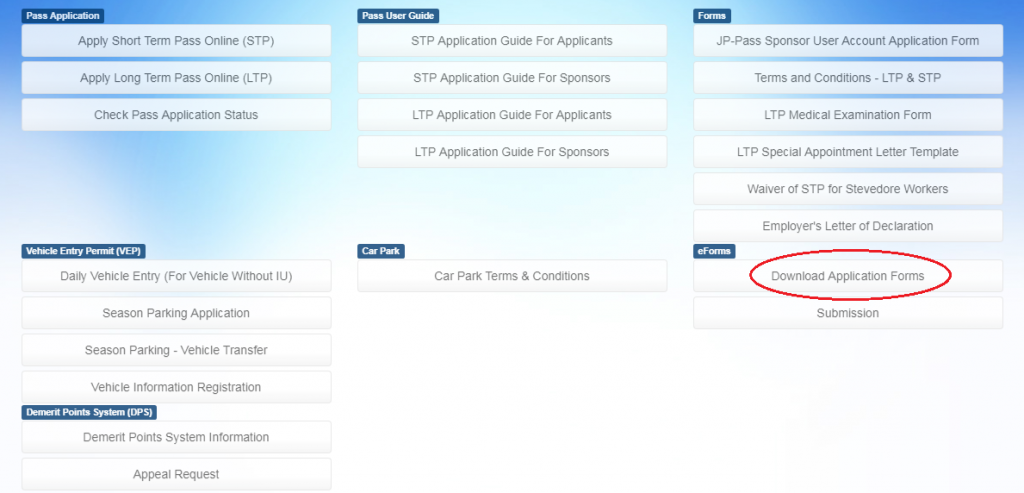 (4) Select New Account- Save file name as [ "Your Company Name".pdf]
(5) Complete (new Credit Account application) page 1 only
(6) After completing the form, look for "eForms" on the header tab & click.
(7) Select Submission

(8) Under "Type of Application", select "New Account".
(9) Select Add

(10) Attach the following:
Completed eForm
Latest company business profile
Latest 2 months bank statements
(11) Provide SMS & Email details
(12) Click Submit.
---
Note: A Credit Account is a compulsory requirement to operate in Jurong Port, Penjuru Lighter Terminal and Marina South Wharves. The account generates the charges for operations carried out.
GIRO application
Security deposit (cheque or banker guarantee in the original endorsed)
It can be ready within 3 working days from the date of receipt of the application when all required documents are received in order.
Please email a letter (with company letterhead) to our Finance Department at finar@jp.com.sg, requesting the closure of the account with the following information:
Company Name
JP Credit account number
Date of Termination
Reason for Closing Credit Account
Letter must be fully signed and stamped with the official company stamp
If there is a deposit, please state the mode of refund.
For Non-GIRO customers: Please mail us the Direct Credit Authorisation form endorsed by the bank. This is to credit the security deposit back to the company bank account.
Note:
– The refund of the deposit is made after outstanding sums are recovered.
– The duration taken for the actual crediting is about 1.5 to 2 months.