Delivery Note (DN) is required before cargo can exit the port. This is applicable for cargo under local status. The transaction must be carried out at either the General Cargo (GC) counter or the Self- Service Terminals (SST).
The DN is only issued after payment is made for the packages transacted. This applies to cash account holders.
---
(1) Login to JP-Online
(2) Select "OPS"
(3) Select "General Cargo Ops"
(4) Select "DNUA"
(5) Select "DN"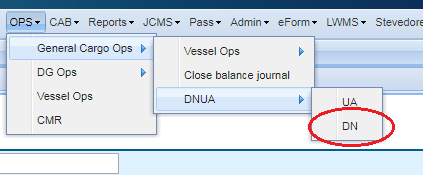 (6) Key in relevant fields
(7) Click search
(8) Select EDO ASN No.
(9) Create the desired DN
(10) Click add & submit