Motorcycles and bicycles are not allowed entry into the port.
All other vehicles, local or foreign-registered, must be registered in JP-Online.
---
Modes of Registration:
JP-Online Application – (customer/port user with both Credit and JP-Online Accounts)
(1) Login to JP-Online
(2) Proceed to "Other Services"
(3) Select "Vehicle Info Registration"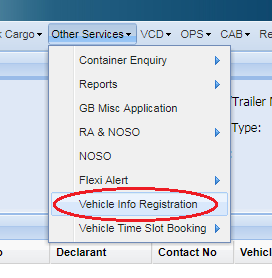 (4) Select "Create"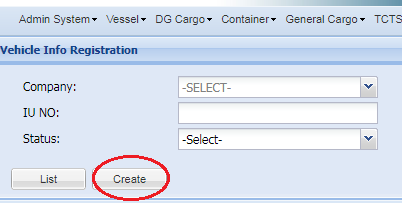 (5) Enter the relevant information, ie. Vehicle/Trailer no, Name of declarant, Contact No, Vehicle Type, Unladen Weight
(6) Kindly read the Terms & Conditions and select "I agree"
(7) Submit Application
*NO Payment is required for registration of vehicle
---
Manual Application
(1) Go to https://www.jurongportonline.com/JPPASS/
(2) Under "Vehicle Entry Permit (VEP)", download "Vehicle Information Registration"
(3) Complete the form
(4) Physically submit it to the Pass & Permit Office Counter
---
The company details, In-Vehicle Unit (IU) number and unladen weight of the vehicle need to be indicated in the application form for both JP-Online and manual registration.