Yes, Contractor Permit is compulsory.
Contractors requesting to do maintenance, repairs and other forms of ancillary works on vessel or at open yard/warehouse must apply for a contractor permit from the Workplace Safety and Health (WSH) Department. The Contractor Permit and Risk Assessment are to be submitted to the Safety counter at Pass and Permit office or can be submitted on JP-Online for approval.
A Safety Assessor must be arranged by the company requesting for the service. The Safety Assessor after inspecting the site will provide an Inspection certificate to Jurong Port for the Contractor Permit to be approved. The works are to be carried out only in specified areas in the permit.
A fee of $100.00 (exclusive of 7% GST) will also be levied.
---
(1) Login to JP-Online
(2) Select "Other Services"
(3) Select "GB Misc Application"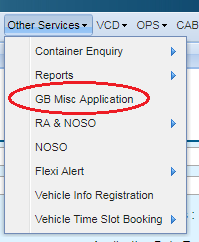 (4) Under the type of application, choose "Contractor Permit"
(5) Key in Date From /To
(6) Click Submit at Application Status
(7) Click Add
(8) Complete the form & Submit.