Company with Credit Account in Jurong Port is provided with the access to view/print the invoice and statement from JP-Online.
---
Monthly subscription – [Only Data Security Administrator (DSA) has the access.]
(1) Login to JP-Online
(2) Under admin system, select user maintenance
(3) Click add
(4) Create new user
(5) Assign the E-account function to another user of the company
---
Flexi-Access
(1) Go to https://www.jurongportonline.com/JPPASS/
(2) Look for eForms
(3) Select Download Application Forms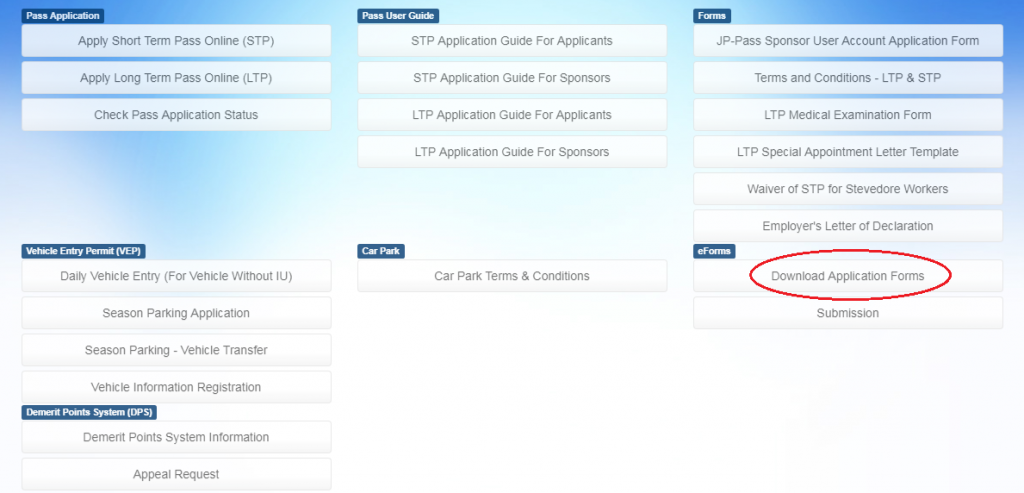 (4) Select JP-Online Access/Subscription Amendment- Save as file ["Your Company's name".pdf]
(5) Complete the form
(6) After completing the form, look for "eForms" on the header tab & click.
(7) Select Submission

(8) Under Type of Application, select JP-ONLINE Access / Subscription Amendment
(9) Select Add

(10) Attach completed eForm  & click Submit.
---
Jurong Port IT Department will create the User ID and company will receive the acknowledgement for endorsement. The E-Account access is created and assigned to the DSA.
(1) DSA must login to JP-Online
(2) Under Admin System, select User Maintenance
(3) Add and create new user and assign the E-Account function.